Cummins Products
Cummins After-treatment Solutions:
Cummins develops industry-leading after-treatment technology designed to meet our customers' needs for performance and reliability, while optimizing fuel economy and cost savings. We are a global leader in designing, manufacturing and integrating exhaust after-treatment solutions to meet the highest emissions standards worldwide. Cummins helps customers meet tomorrow's emissions standards today with innovative, flexible and integrated technology for light- medium-, heavy-duty and high-horsepower commercial on- and off-highway markets.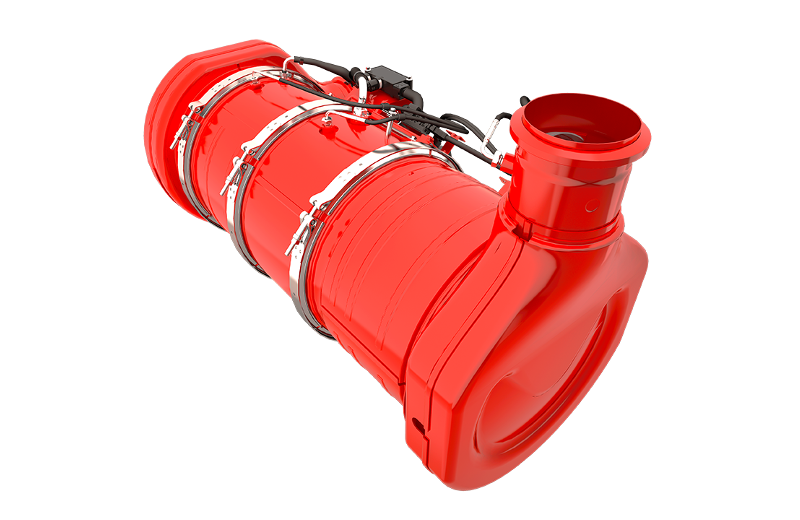 UL2 Urea Dosing System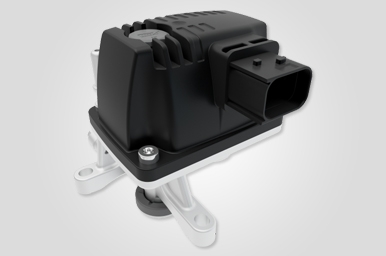 The UL2 Urea Dosing System is a liquid-only dosing system focuses on oxides of nitrogen (NOx) reduction capabilities that support application ranges from low to high flow selective catalytic reduction (SCR) dosing applications.
Benefits
Proprietary design of the injector includes a unique pressure swirl atomizer that offers customized spray angles and flow rates to reduce the risk of deposit formation and enhance mixing.
Fewer coolant lines allow for a simpler system that is easier to integrate.
Urea recirculation and freeze robust components offer improved system reliability. Reduced risk of urea crystallization and injector clogging, as urea is always present in the system.
Optional controls technology within the electronic dosing unit offers flexibility in vehicle integration options.
Features
Supply Module
Mounts to the chassis.
Heated by engine coolant.
Enhanced freeze resistant components: pressure relief valve, foam cup and membrane around filter, vent cap to allow re-expansion of cup, urea expansion channels.
Contains optional integrated dosing controls to monitor injector, temperature and pressure sensors
Injector
Mounts to the decomposition reactor.
Cooled by urea re-circulation, heated by electric.
Contains proprietary pressure swirl atomizer with reinforced 11-layer nozzle.
Enhanced freeze resistant components: urea expansion channels, temperature and pressure sensors with expansion bellows.
Contains injector, temperature and pressure sensor
UA2 Urea Dosing System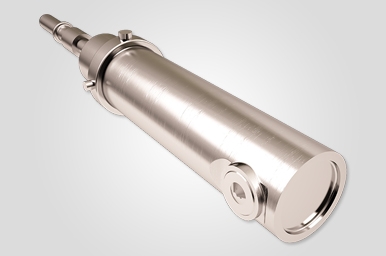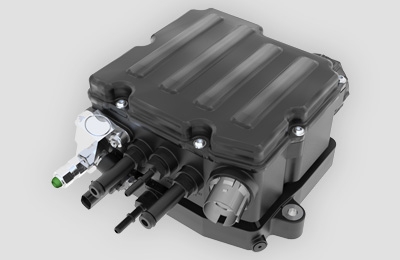 The UA2 Urea Dosing System ensures efficient conversion to ammonia and prevention of urea build-up in the system, increasing the durability and reliability of the after-treatment system. To achieve this, the air-assisted technology provides a smaller uniform urea droplet size through a centerline injection.
Benefits
This system allows for the ability to tune engines for improved fuel economy or to reduce the size of the SCR through uniformity index or ammonia slip catalysts.
In addition to reducing deposit formation, this system provides better performance than competitive systems with improved NOx conversion efficiency for comparative size catalysts.
The UA2 Urea Dosing System has been designed for easy integration on top of the urea storage tank or on the chassis, minimizing engineering and validation expenses.
Features
Supply Module
The control module calculates exact dosing rate of urea based on various engine conditions, and urea mixes with air from vehicle compressed air.
Atomized urea is sent through Injection Nozzle into exhaust system, upstream of the SCR catalyst.
Injector
The design allows urea injection in center of the exhaust gas flow, which minimizes the risk of deposits.
Its relatively large orifice sizing in the nozzle also provides exceptional tolerance to contaminants.
After-treatment Control Module
Translates datalink-commanded dosing rates into the supply module inputs, accurately delivering required dosing quantities.
Independent after-treatment control module used to control other engineered components in engine or after-treatment system.
Urea Tank System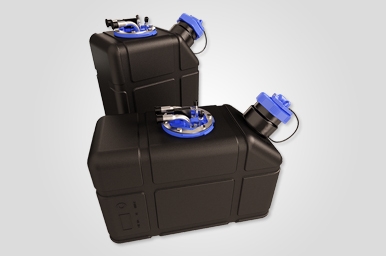 The Urea Tank System is a convenient, fully packaged system for selective catalytic reduction (SCR) technology. With a range of urea tanks and header assemblies equipped with required sensors, the Urea Tank System portfolio assemblies also fulfill the installation needs of many applications with a broad range of urea lines. The Urea Tank System has an improved urea filtration capability to capture any foreign debris which may enter the urea holding chamber.
Benefits
A high-efficiency filtration system in the tank assembly improves system reliability and extends service intervals.
Temperature sensors provide the ability to prevent freezing.
The range of tank capacities, including 5, 10, 15 and 30 gallon, as well as a range of pressure, suction and throttle line lengths delivers installation flexibility needed across customer applications.
A range of electrically heated line lengths offer convenient installation options for a wide variety of applications.
Features
The full tank assembly includes a header unit and sensors to measure urea levels, temperature and quality.
There are line options offered in nylon and ethylene propylene diene monomer (EPDM) materials for both purging and non-purging dosing systems.
Cummins Filtration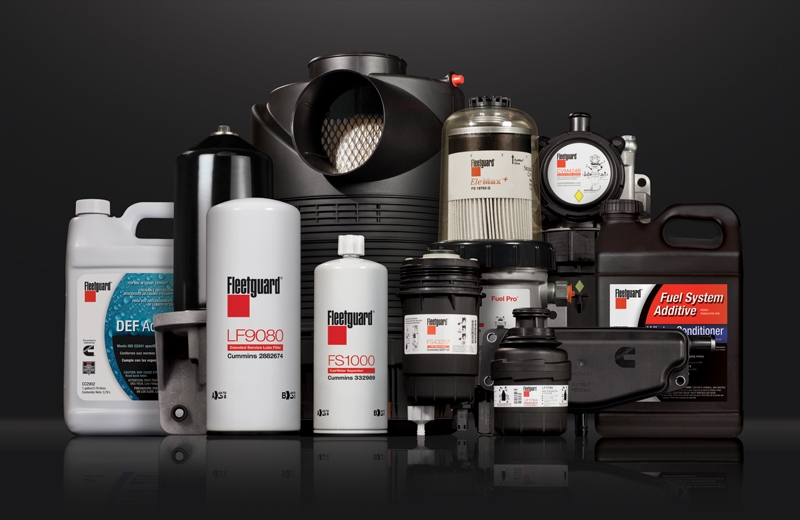 Cummins filtration and exhaust products keep commercial engines running at peak capacity, with filters, coolants and fuel additives that increase uptime, reduce costs and leave a light footprint on the environment.
Our air, cooling, fuel, hydraulic, lube and transmission systems, along with our other filtration products, are continually being developed, refined and improved by Cummins research and engineering teams worldwide.
Cummins Electronics & Fuel Systems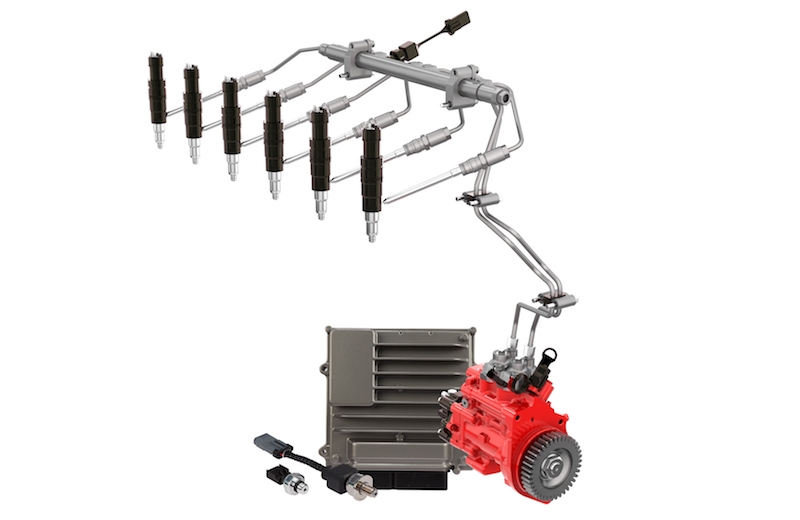 For almost 100 years, Cummins expert teams have designed products to work effectively with your engine and, in turn, the vehicle it drives.
Electronics
Cummins has a rich history of designing and producing Electronic Control Units, Software, Sensors and Tools. Our aim is to give our customers a comprehensive set of electronic hardware, tools, base controls software, processes, infrastructure, and development services to provide world-class electronic-intensive products and value packages that meet and exceed global expectations.
Fuel System
Cummins leverages over 80 years of Fuel Systems experience in its current operations. Cummins fuel systems enable engines to meet increasing emissions requirements while maximizing fuel economy and performance. Our advanced, world-class technologies help you get the most out of your fuel system while we continue creating innovative products to meet your future needs.
Cummins Turbochargers & Air Handling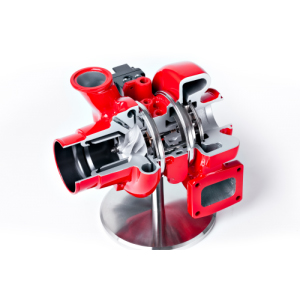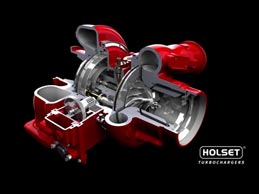 Cummins is the only manufacturer focused solely on medium to heavy-duty diesel engine turbo technologies. For more than 60 years, we have delivered innovative, reliable turbocharger solutions for our customers. Our vision for turbocharger solutions, thanks to our rich company heritage derived from our Holset brand, sets us apart as a technology leader.
Commercial diesel engines require advanced technologies that deliver efficiency and meet strict emissions requirements. Our fixed, waste-gate, variable, two-stage, turbo-compounding and waste heat expander technologies were specifically developed to deliver higher efficiency and lower cost.
Today, Cummins Turbo Technologies engineers are actively developing state of the art solutions for the next generation, including assisted turbocharging, new bearing systems and enhanced compressor stage performance.