About WABCO

WABCO is a leading global supplier of technologies and control systems for the safety and efficiency of commercial vehices. Founded over 140 years ago, WABCO continues to pioneer breakthrough electronic, mechanical and mechatronic technologies for braking, stability and transmission automation systems supplied to the world's leading commercial truck, bus and trailer manufacturers. With sales of $2.5 billion 2012, WABCO is headquartered in Brussels, Belgium.

WABCO INDIA has five world-class manufacturing sites located in Ambattur, Chennai; Jamshedpur; Mahindra World City; Pant Nagar and Lucknow as well as a software development centre and a company-owned test track in Chennai. WABCO INDIA excels in engineering, manufacturing and local sourcing. It designs, manufactures and markets conventional braking products, advanced braking systems, and other related air-assisted products and systems. WABCO INDIA has achieved a major market share in the Indian OEM market as well as the domestic aftermarket, which it serves through an extensive national distribution network.
About RaneTRW
Incepted in 1987 to manufacture Steering Systems. Seat Belt manufacturing facility added in 1997
Both divisions have joint venture partnership with TRW Automotive JV LLC, USA
Occupant safety Division serves Passenger Car, Utility Vehicle & Commercial Vehicle segments


Independent and comprehensive units to design, test and manufacture complete rang of power steering solutions and seat belt systems
Established dominant share of business in both Commercial Vehicle steering and Passenger Car steering industry
Preferred OE partner to Indian OE majors in Passenger Car, Multi Utility Vehicle, Light Commercial Vehicle, Medium and Heavy Commercial Vehicle categories
About HYVA

Hyva is one of the world's leading providers of innovative and highly efficient transport solutions for the commercial vehicle and environmental service industries. With over 20,000 customers and more than 40% global market share in front-end tipping cylinders, Hyva's solutions move the world. Today, after being in operation for more than 40 years, Hyva is present in 110+ countries, has more than 30 fully- owned subsidiaries, and has reached extraordinary service coverage and a manufacturing base that includes 12 production facilities across China, India, Brazil and Europe.
About Cummins
Cummins Inc. is organized into distinct but complementary business segments:
1) Engine Segment
The Engine Segment designs and manufactures state-of-the-art diesel and natural gas powered engines for on-highway and off-highway use. The business also offers new parts and remanufactured parts and engines.
2) Power Systems Segment
The Power Systems Segment is a global provider of high-speed high-horsepower engines and power generation equipment, including standby and prime power generator sets, alternators, switchgear and other components. Power Systems offers engines, power generation systems, components and services, and alternative-fuel electrical generators for use in residential standby, commercial industrial, mining, marine, rail, oil and gas, defense, data centers, telecom and healthcare applications and industries, to name a few.
3) Components Segment
The Components Segment consists of four businesses with key technologies for delivering integrated solutions: Cummins Filtration, Cummins Turbo Technologies, Cummins Emission Solutions and Cummins Electronics and Fuel Systems.
a) Cummins Filtration
Cummins Filtration designs, manufactures and distributes heavy-duty air, fuel, hydraulic and lube filtration, chemicals and exhaust system technology products for diesel and gas-powered equipment.
b) Cummins Turbo Technologies (Holset Turbochargers)
Cummins Turbo Technologies designs and manufactures turbochargers and related products, on a global scale, for diesel engines above three liters.
c) Cummins Emission Solutions
Cummins Emission Solutions develops and produces various emission solutions designed to meet the highest emissions standards worldwide.
d) Cummins Electronics and Fuel Systems
Cummins Electronics and Fuel Systems consist of two separate product lines. The electronics product line develops engine control modules and electronics control units, software, sensors and tools. The fuel system product line designs, develops, manufactures and remanufactures both unit injector and common rail systems.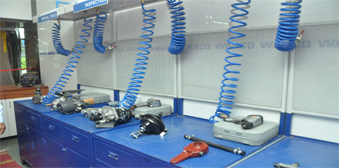 Workshop Details
Gurumeher has a state of the art workshop in Panvel. Gradually, the Kurla and Nerul workshops are in the process of being upgraded to this level. The workshop which is at Vasai is in line with the Panvel workshop.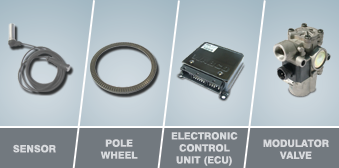 Anti-Lock Bracking System (ABS)
Anti-Lock Braking Systems (ABS) are used to prevent locking of a vehicle's wheels as a result of excessive actuation of service braking system, especially on slippery roads.ABS has now become mandatory for vehicles carrying hazardous goods.